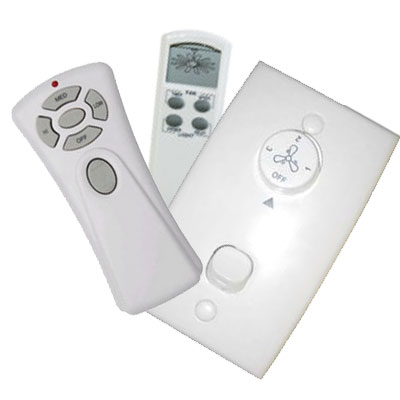 One of the most obvious differences between ceiling fans in the type of control they use. Deciding which type of control you would like isn't always easy and there are a few things to keep in mind before you make your choice.
Ceiling fans have three types of controls:
Remote controls.
Wall control
Pull cord: The original method was to pull a cord hanging from the motor. It turns the fan on and off and sometimes change speeds. This option is still available in some traditionally styled fans.
Generally when you buy a fan, it will come with just one of these control methods included, but many will have the option of using another method instead at an extra cost. Not all fans have the option of a remote control, but most do. Some will have it as the standard form of control. Others will have a pull cord or wall control and offer the remote as an optional extra.
Ceiling fans with remotes offer many advantages, but they are not the right solution for everyone. Sometimes they are necessary, sometimes they are more convenient, and sometimes you are better off without them!
When you need to have a remote control
There are cases where installing a fan will only be possible with a remote control.  You may not have access to run the wiring through the ceiling and down the wall to install a wall control.  This is common for apartments with another floor above them, where there is no access the wiring in the ceiling. However, there is a light in the room, so you can replace the light with a fan and light, and use a remote option to control both.
You will also need a remote control is if it is the only option for the fan model you choose. This is especially true for DC fans – which currently are only available with remote controls. So you might solve the problem of whether to use a remote when you choose your ceiling fan.
When a remote control is optional
If accessing the wiring is not a problem, you may still find a remote more convenient:
In a bedroom, a remote will allow you to turn the fan on and off from bed.
If you have more than one fan: In a large space (such as a living room or restaurant) where you  want to your fans simultaneously (ie they all turn on together). In this case, you can install radio frequency remotes, set them all on the same frequency. They will all turn on and on to the same speed from the one remote control handset.
When you are better off avoiding a remote control!
There are some cases where you may be better off avoiding a remote control for your ceiling fan:
When you are on a limited budget. Remotes will usually add about $50-$100 to the cost of the fan.
If you think the remote may get lost. This is sometimes a concern for people who have young children or pets in the house. You can get around this by choosing a model which comes with a cradle for the remote.
If you don't want to avoid replacing batteries. If you do not want to deal with flat batteries in the remote, a wall control or pull cord is a better option.
Finally, remotes will break down over time and need to be replaced. Pull cords and wall controls are more durable ( unless some external factors causes damage to them) so they need less maintenance.
If you are noise sensitive. Most remote controls create a beep sound to indicate that the handset and receiver are communicating properly. This also happens when the isolation switch is turned on, to indicate that power is going to the receiver. It's possible to switch this off on some remotes, so if something you're concerned about please contact us for suggestions.
So it's really up to you if you decide 'to remote or not to remote'. It depends on your situation, your preferences, and your budget!